Ming K. Heng, MD, FRACP, FAHA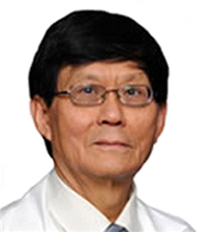 Dr. Ming Heng is a Clinical Professors of Medicine at the UCLA David Geffen School of Medicine. Dr. Heng was born in Malaysia of Chinese immigrants from Shantou in north Guangdong Province in China. He received his medical education from the University of Singapore as a State Scholar. After fulfilling his Public Health Service, he left for Auckland, New Zealand, where he spent the next 8 years. During this period, he was trained in Internal Medicine and Cardiovascular Disease and was board certified by the Royal Australasian College of Physicians. Dr. Heng also completed 3 years of cardiovascular research training in an Auckland University affiliated hospital where he studied the measurement and treatment of myocardial ischemic injury. In 1976, he became a senior research associate with Cedars-Sinai Medical Center in Los Angeles, where he did pioneering work in the development and use of 2-D echocardiography. In 1978, he was appointed to his first faculty position when he became a cardiologist with the UCLA-San Fernando Valley Medicine Program. He took this opportunity to become U.S. board certified in Internal Medicine and Cardiovascular Disease. In 1992, he became Clinical Professor of Medicine, Chief of Cardiology and Director of Cardiovascular Training. He went into private practice in 2003, but retained his UCLA Clinical Professor of Medicine.
As an academic cardiologist, he was particularly known by his trainees and peers for his clinical expertise in auscultation and diagnosis. Even before cardiac investigations were performed, including echocardiography and cardiac catheterization, Dr. Heng would usually come out with the cardiac diagnosis based on clinical evaluation alone. He was honored as Clinician of the Year by his program residents and peers twice for this unique skill, and was voted Teacher of the Year on five other occasions. As a researcher, Dr. Heng has 140 publications in peer review journals, abstracts and book chapters. He made important contributions to the measurements and treatment of myocardial ischemic injury by biochemical, ECG and ultrasound measurements. This included some of the earliest studies with calcium channel blockers, insulin-glucose-potassium and beta-blockers after myocardial infarction in animal and humans. Dr. Heng was one of the pioneers of 2-D echocardiography when the technique was introduced in the mid-seventies. The group he was working with had one of the first 2D echocardiographic systems in the country. In studies of animals and humans, his colleague (HL Wyatt) and he developed techniques and formulas for measuring left ventricular mass, volume, ejection fraction, infarct size and wall motion abnormality. Some of the formulas are still routinely used now in the clinical setting. Ming also served as reviewer in a number of medical journals, including the American Journal of Cardiology and American Heart Journal. He is currently on the Advisory Board of the International Journal of Clinical and Experimental Physiology.
Dr. Ming Heng is passionate about contributing to the health and wellbeing of the Chinese community locally and abroad. He has chosen to do this in the manner that is best suited to his resources and expertise, chief of which is to share his medical knowledge by recruiting, teaching and mentoring many young physicians of Chinese descent. He used all the resources available with his training program to attract and recruit these doctors into training as primary care physicians and subspecialists that placed a premium on giving back their time and expertise to their community. He served as role model and mentor to large numbers of interns, residents and fellows of Chinese heritage. He ensured that his training program recruited young Chinese physicians who had graduated from some of the top medical schools in the country, and provided the UCLA-SFV Program with the highest proportion of trainee doctors of ethnic minority background among the UCLA training programs. He took special care to nurture these doctors to completion of their training with constant counseling and support. Many of these went on to complete specialty training in some of the top university affiliated programs, and many others went to serve their local communities after training. For those who were bilingual, he encouraged them to consider practicing in the local Chinese immigrant communities because of increased need due to low income, language, and limited access to medical care. Several have heeded their advice, including an electrophysiologist who is now providing this community with its first bilingual electrophysiologist from an Ivy League program.
Dr. Ming Heng believes strongly in improving public health, and in particular health of the Chinese American community, through education. He has volunteered vast amounts of time to the education of the medical and lay communities. He continues to return to teach his specialty to UCLA students and residents of the UCLA-Cedars Sinai/VA Program on a voluntary basis and give lectures outside the country several times a year. Dr. Ming Heng has been very proactive in propagating information on the cardiovascular health of the Chinese and other Asian communities. He did this when he was President of the San Fernando Valley Chapter of the American Heart Association for two years, and also more recently when he was key-note speaker at the OMIC Meeting of Clinical and Experimental Cardiology in Chicago, when he spoke on "Cardiovascular Disease, Race, and Ethnicity: Focus on Asians". While there may be different ways to contribute to the health of the Chinese American, Dr. Ming Heng has done so doing what he is best at – education, research and clinical care – to improve the health and well-being of this community.