Mrs. Yvonne Yan-Kiu Chiu, CM (1944 – 2009)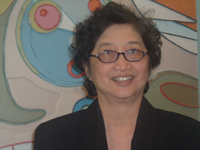 Mrs. Yvonne Chiu was born in Shanghai, China on March 17, 1944. She met Dr. John Heung-Cheung Chiu in 1959 when attending St. Paul's Co-Ed College in Hong Kong, China. She graduated from McGill University in Montreal, Canada, in 1966 in Microbiology. Yvonne and John married in Hong Kong on June 9, 1968 and had their only son, Derrick Man-Fung Gregory on April 8, 1970, in Ottawa, Canada. The Chiu family moved to Toronto, Ontario, in 1974 where Yvonne became a community and cultural superstar, through her patronage, volunteerism and educational vocational pursuits.
Yvonne lectured in Microbiology & Genetics at University of Toronto, Scarborough campus for over 30 years, and was named as a Great Mind of the University of Toronto on their 175th anniversary in 2002. She was also a cultural patron of the highest order, known as an "Angel of the Arts". At various times, she sat on the Boards of the National Ballet of Canada, National Ballet School, the Canadian Opera Company, the Art Gallery of Ontario, the Roy Thompson & Massey Hall Corporation, the Royal Conservatory of Music, the Stratford Festival of Canada, the Textile Museum of Canada, the Toronto Wagner Society (Chair), the Toronto Arts Council Foundation (Chair) and the Ontario Arts Council. She was an integral supporter and patron of Ontario's SuperBuild program which produced the recent and inspiring additions and renovations to many of the aforementioned cultural institutions.
Yvonne was the organizer of the successful 5th International Conference on Health Problems Related to the Chinese in North America in Toronto in 1990, which inspired the formation of the Federation of Chinese American and Chinese Canadian Medical Societies in 1994. She then coordinated all the Board meetings of the FCMS that were held in Toronto throughout the years. She was awarded posthumously Honorary Membership of the FCMS in 2010.
Yvonne was an influential and proud member of the Chinese-Canadian community in Toronto, as Chair of Fundraising and Vice-President for the Mon Sheong Foundation 1987-91, as a co-founder of the Chinese Cultural Centre of Greater Toronto, in Markham, Ontario, and Vice-President in 1992-99, and as the Chairperson of the Cathay Pavilion, Metro Toronto Caravan in 1991 and again in 1999. She was a founder of the Education Foundation of the Federation of Chinese Canadian Professionals (Ontario) in 1984, chairing the inaugural fundraising gala.
Yvonne was adored for her volunteer work as an AGO docent, her Wagner Ring Cycle educational talks, as well as pre-opera "chats" before Canadian Opera Company performances. She also gave frequent talks to thousands of school children on the subject of Chinese culture, and taught cooking classes at the Chinese Cultural Centre to people from all ages and backgrounds.
On May 30, 2001, Yvonne was awarded as a Member of the Order of Canada, of which she was tremendously proud.