Dr. Ming-Tat Cheung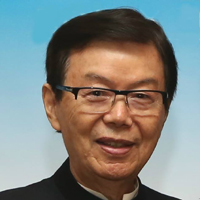 Dr. Ming-Tat Cheung has been the chairman and president of the Chinese Cultural Centre of Greater Toronto since 1989. He has been a clinical cardiologist for over 30 years. His professional involvement has included: member of the Ontario Medical Association's Council; president of the Clinical Society and chief of Cardiology and Internal Medicine at Humber Memorial Hospital; founding member of the Chinese International Heart Health Network; and a lecturer at the University of Toronto, Faculty of Medicine. Some of Dr. Cheung's past and present community and charitable activities have included his appointment by the Ontario Ministry of Citizenship as facilitator for the merger of the Mon-Sheong and Yee-Hong seniors' homes. He was a member of the community settlement program for Vietnamese refugees in the 1980s. He participated in Metro Toronto Week in Hong Kong in 1993 to promote business opportunities in Scarborough with former Scarborough mayors Joyce Trimmer and Mayor Frank Faubert. He was a member of the City of North York's Committee on Race Relations; he was a founding member and president of the Federation of Chinese Canadian Professionals (FCCP). He assisted the official opening of the Phase I Chinese Cultural Centre in 1998 and its Phase II expansion in 2006 and worked with thousands of volunteers for the past 19 years in planning, fundraising and development of the centre. The centre is now a landmark of the City of Toronto and cultural hub for all community groups with different cultural and ethnic backgrounds in the GTA. He is also the past-president of the CMC (Canadian Multicultural Council, Asians in Ontario), an organization consisting of representatives from 18 different Asian regions and countries that promotes cultural understanding and racial harmony.
Outside of the Chinese Cultural Centre, Dr. Cheung has been heavily involved in community and charity volunteer work for over 30 years. He chaired the Community Coalition Concerned about SARS, a coalition of over 60 community organizations joined together to assist victims, fight stigmatization and discrimination and raise funds for research during the SARS outbreak of 2003. He has organized numerous fundraising functions for natural disaster involving different countries around the world, including the Asian tsunamis and South Asian earthquakes in 2005. He chaired a fundraising banquet for the Sichuan抯 Wen-Chuan Earthquake Relief in 2008. He also initiated and chaired a fundraising project for Haiti Earthquake Relief in 2010 through which 80 community groups from Chinese and other Asian communities jointly raised over a quarter of million dollars for the victims of the earthquake. Dr. Cheung initiated a community wide fundraising project for the China Gansu mudslide, Pakistan flood relief, Taiwan flood relief and Japanese tsunami relief.
Among his numerous community achievements, Dr. Cheung has been Chairman of the "Panda Acquisition Task Force" appointed by the Toronto Zoo Management Board. In this role, he travelled to China three times in 2010, including a visit with the then Governor General Michelle Jean in July 2010 to hold direct discussions with Chinese President Hu, who gave his approval to the transfer of two giant pandas to Canada. During his third visit to China with the CEOs of three Canadian zoos (Toronto, Calgary and Granby Zoo from Quebec), a loan agreement was signed. Dr. Cheung was part of Prime Minister Harper抯 entourage during his official visit to China in February 2012, during which the Panda Loan Agreement was officially signed. Dr. Cheung believes that this acquisition is very much an exercise of diplomacy that symbolizes the improving friendship between the countries.