Dr. David F. Der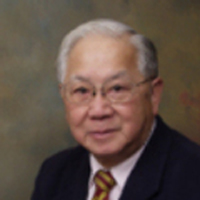 I was born in Kaiping, Guangdong, China. I immigrated to the United States with my aunt in 1939 to escape the war. We made our way to Hong Kong and took the last passenger liner out and landed in Angel Island in San Francisco Bay. I had to live with my aunt and uncle as an adopted son. I was placed in a special immigrant class for a year to learn English before being placed in the 3rd grade. I went to Oakland Technical High School. By the time I graduated I had to live on my own. I worked part time as a dish washer, then a kitchen helper and a bus boy.
While talking with a friend who was waiting for a ride to San Francisco, I was asked to go along. I did everything he did and registered as a pre-med major at City College. I later was transferred to University of California at Berkeley and was a pre-med major with physiology as a minor. Because of the pressure and "burn out" feeling, I volunteered my draft into the Army for 2 years in Korea and worked in a medical clinic. Because of my financial situation, I was dependent on my GI Bill for education support and part-time work. Howard University's low tuition fit my budget.
After graduation, I came back to Oakland and interned at the Alameda County Highland Hospital and 4 years of general surgery residency also at Highland General Hospital. I was the chief surgical resident during the last year of my training. I got my general surgery board certification in 1975 and joined the International College of Surgeons. I became the chief surgeon for the group and chaired the department of surgery at St. Rose Hospital of Hayward.
From 1970 to 2009, I was asked to serve on many community organizations. My main organization involvement was the Organization of Chinese American. In 1974, I was asked to help a group of community activists to organize health and medical services for the new immigrants. I set the structure of the organization and selected as an acting administrator. It became the Asian Health Services, well known for its community services in the East Bay. In 1977, I formed and incorporated a group of physicians to provide help for the community services organizations. That group was the Chinese American Physicians' Society. In 2000, I was contacted to administer a Hepatitis B program. I took the job and ran the program under the CAPS administration for 4 years.
For all the community involvement, I was awarded the Benjamin Rush Award at the AMA Convention in 2007. I also received the Dr. Kenneth Ho Award for community service from the Oakland Chinese Community Council in 1990. EMOS PHYSICIAN OF THE YEAR, Ethnic Medical Organization Section of California Medical Association for service in 2012.
With the new requirements, rules and regulations of Medicare, and the impending decrease in reimbursement for the physicians' services, and my health problems, I decided to retire in June of 2012.